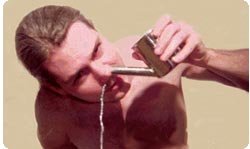 The purpose of this educational website is to de-mystify the yoga cleansing technique of Jala Neti (also called neti or Jalaneti). This is the oldest and most researched aspects of sinus irrigation.
While it is of natural interest to yoga practitioners, this technique is especially suited to the 'common' man for its remarkable effects on treating sinus infections, allergies, headaches and even stress.
Today, millions of people suffer from sinus infections of some sort. While many of them are becoming increasingly resistant to antibiotics, there is help available through this unique method of sinus irrigation.
In its simplest form, Jala Neti is a way of nasal irrigation or washing of the sinuses in a unique manner through a special pot called the neti pot or the jalaneti pot.
I will explain the method and why it works in a much better way than other treatments for treating sinus infections. To understand how the method works, click here
Details on the actual procedure are provided. To understand "how to do", including specifics on the salt and drying the nose, click here
Explore the right tool and the features that it must have to make the practice most convenient and effective. To understand this, click here.
I will highlight some of the common problems faced by the beginner and how to overcome them. To read more on this section, click here
I have also attempted to deal with the most common questions of the learner by including a FAQ section on neti. Click here to access this section
Mostly importantly, empirical data to prove the effectiveness of this practice are provided here for you to understand the true potential of this practice.
Lastly, any feedback that you may have or your personal experience of jalaneti would be most appreciated at feedback@jalanetipot.com. Such feedback will go a long way in providing a true picture to the several readers.